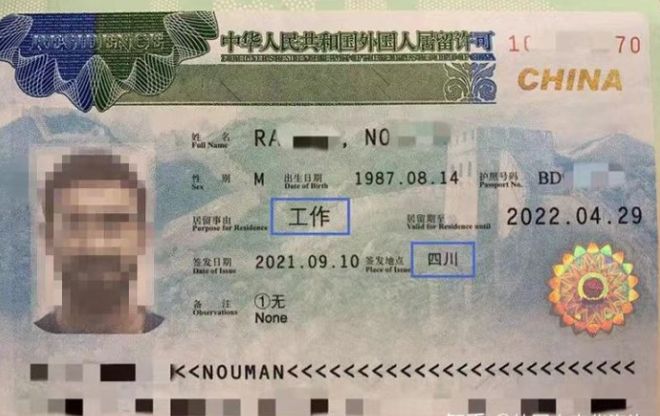 Let's learn about how foreigners who come to China and want to work in China can apply for a work visa?
The career path for foreigners is much more complicated than for Chinese employees
Clock in at 10 am, leave on time at 7 pm, and have weekends on Saturdays and Sundays. This is the daily work of French Tom in China. Tom has been working for a tourism company for 5 years, responsible for consulting travel routes in China and Europe.
Whether in China or France, currently working in a company, job search is the first hurdle, and there is not much difference for applicants. They basically need to go through resume screening, skill testing, HR department, CEO interview, and other stages.
When Tom talked about the differences in the Chinese and foreign workplace that he encountered when entering the workforce, the first and foremost were the procedures related to work visas and labor contracts.
Foreigners employed in China should hold a Z visa and obtain a "Work Permit" and "Work Residence Permit" upon entry in order to legally work in China.
Foreign talents working in China must obtain a work permit, but unlike France, China requires annual renewal procedures, which actually brings some inconvenience to both work and individuals. Tom said that France requires a work visa to be issued every five years, which is more flexible in terms of timing.
And there are also people from Israel who share the same feelings. They came to China in 2015 and stayed there for five years. Enli talked about his first job, working as a translator for Hebrew and Chinese in a state-owned enterprise. Before joining the company, I also went through a formal and rigorous recruitment process, including education, work experience, and background checks. Especially after completing the work permit and other procedures, it took about 5 months to officially work in this company for 4 and a half years.
John, who works as a foreign teacher at an international school in China, also mentioned that he needs to sign a labor contract with the school every two years when working in China. The contract period shall not exceed two years, and there will also be corresponding assessments during the contract period to determine whether the foreign teacher is suitable for continuing teaching. Compared to their hometown in the United States, similar educational positions typically have a contract validity period of five years or even longer.
In reality, the job search path for foreign talents is actually more complicated than that for Chinese people.
Foreigners applying to work in China must meet the following conditions
At least 18 years old, in good health
Having the necessary professional skills and corresponding work experience to engage in their work
No criminal record
There is a confirmed employer
Holding a valid passport or other international travel document that can replace a passport.
Documents required for foreigners to work legally in China
Foreigner Work Permit
Work residence permit
Notice:
Foreigners who have not obtained residence permits are not allowed to study or intern in China, and accompanying family members of foreigners holding Z visas are not allowed to work in China.
Approval process for foreigners working in China
Applying for notification letter of foreigner's work permit
Entry with Z-visa
Applying for foreigner's work permit
Applying for residence permit
The application conditions for being a "foreign high-end talent (Class A)" are:
Foreign high-end talents refer to scientists, technology leaders, international entrepreneurs, specialized special talents, etc. who meet the needs of China's economic and social development, as well as talents with a score of 85 points or above, in line with the "high precision and shortage" and market demand orientation. Foreign high-end talents are not limited by age, educational background, and work experience, and can implement "green channel" and "vacancy acceptance" services. Foreigners can be granted a work permit for up to 5 years.
The application conditions for being a "foreign professional talent (Class B)" are:
Foreign professional talents refer to those who meet the guidance catalog and job requirements for foreigners coming to China and are urgently needed for economic and social development. They have a bachelor's degree or above and 2 years or more of relevant work experience, and are not more than 60 years old; For those who truly need to meet the standards of innovation and entrepreneurship talents, professional skills talents, outstanding foreign graduates, foreign professional talents who meet the point scoring criteria, and those who implement intergovernmental agreements or agreements, restrictions such as age, education, or work experience may be appropriately relaxed. Please refer to the classification standards for foreigners working in China (Trial) for details. If the state has regulations for specialized personnel and government project personnel, such regulations shall prevail.
As a condition for "other foreign personnel (Class C)":
Other foreign personnel refer to other foreign personnel who meet the needs of the domestic labor market and comply with national policies and regulations.
The specific identification standards can be found in the "Classification Standards for Foreigners Working in China (Trial)".
The difference between a residence permit and a visa:
Different issuing objects
Visa: issued to foreigners visiting China.
Residence permit: issued to foreigners who meet the requirements for long-term residence in China for more than 180 days.
Different issuing authorities
Visa: The issuing authorities are foreign embassies and consulates and domestic public security organs.
Residence permit: The issuing authority is the domestic public security organ.
The nature of the documents is different
Visa: Short term visa stays for no more than 180 days. Holders can stay in China with their visa for a period of stay, mainly as foreign entry and exit documents.
Residence permit: The holder can enter and exit China multiple times during the validity period of the residence permit, mainly as a foreigner's residence certificate.