WeChat Management Service
About WeChat Official Account
WeChat Official Account is an application account on the WeChat, which has one billion active users.
On the official account, you can realize all-round communication and interaction with specific groups of text, pictures, voice, and video on the WeChat platform.
If you are not on it you are losing one billion potential customers.
By Working with GEI you will get access to a team who has 10 years of experience, over 100 clients, and has already helped our customers make LITERALLY millions of USD from the world's largest B2C market!
Work with a company which has no hidden costs but will give you a clear picture of where " every penny" goes to and how that penny will make you money. Work with Experience, work with GEI.
Our Services
Our WeChat Official Account Operation Service includes four aspects: By working with GEI you can expect a clear 4 step actionable service plan of how we will help your company increase your Chinese customer sales and build a brand name in the Middle Kingdom, known as China.
Content
Service A : content operation (daily post, post frequency, hot news response, creative design);
Each WeChat Official Account is individually created and designed. To be successful on WeChat you need to work with a company who understands the local market, understands the latest Chinese buzzwords and how to edit your posts in accordance with local taste.
 By working with GEI you can rest assured that your WeChat Official Account will have a perfect plan of contents and posts required to succeed in China.
Event
Service B : event management (event planning, activity execution)
Back in the West we all know Christmas, Thanksgiving, Black Friday, and Easter. Hey, I bet everyone reading this also knows that every January there is the "January sale" just after Christmas but what about in China? Is there a January Sale? You've probably heard of Singles day but do you know when the Flower Market is every year?
 If you do not know the Chinese equivalent to these festivals/advertising seasons you are missing out on some prime time to make more sales.
By working with GEI your store will work with you to help you follow the trends in Chinese shopping festivals, when to have different types of advertising and organize sales activities when you should be organizing them!   
Fans Service
Service C : fans service  (setting message guidance, fans interaction) ;
The online sales funnel in China works differently. That is a general fact that you will have to accept if you want Chinese business. You will need to have full time staff whose only job is to wait for people to enter your WeChat Official Account and be ready to answer all and any questions your Chinese fans has within seconds of the potential customer asking that or expect them to lose their interest to your brand.
There are more than 8 million WeChat Official Accounts of brands. If you don't treat your fans well, you will lose the competition.
By working with GEI you will have professional staffs to give you various ways to increase the number of your brand's fans and keep your fans active.
Platform
Service D : platform management  (menu planning and construction, keyword setting, annual fee, layout update, etc.);
A lot of management operations requires you to have a Chinese ID card and bank card in mainland China. Not only that the way they manage the platform is so different. 
WeChat Official Account has specific layout styles needed to be followed in order to succeed. These styles generally do not get used in the West and take some time to understand why the work for the local market.
  By working with GEI you will remove the headache of navigating through the multiple forms and roundabout way of managing a successful WeChat Official Account in China. And you will have specialized Chinese designers who will create your layout and keywords for you that will match the local taste and create a greater Chinese demand for your products.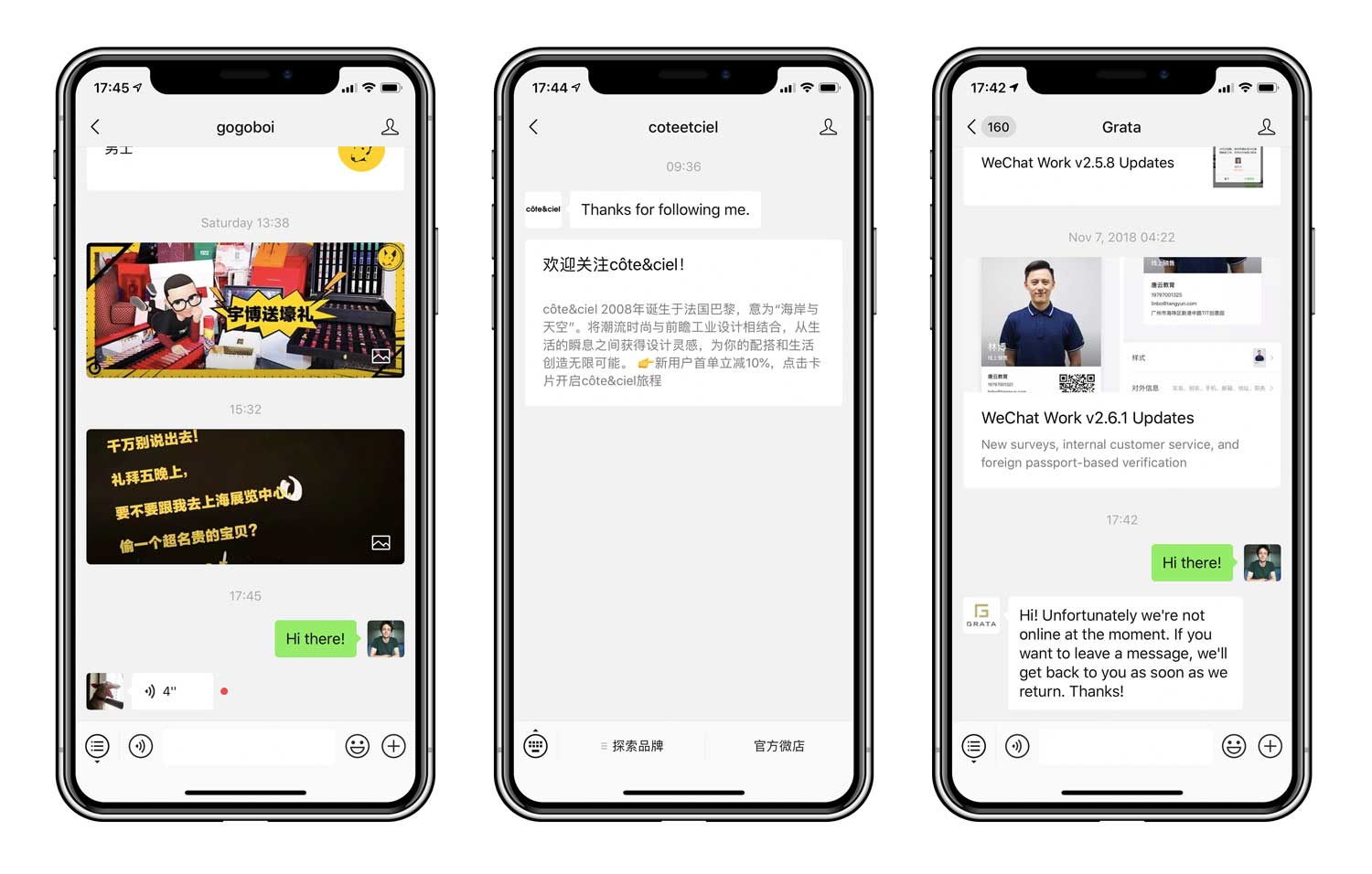 Successful Case Studies
We've helped our customers make Millions!
At GEI we believe in actions speak louder than words. We have full confidence in our abilities, so much so here is some of our current clients  which you can go and check out! We've even put their stats on show for you to see (With their permission of course).
Caesars Entertainment Corporation, the world's most diversified and comprehensive entertainment group  
Figure 1 shows the total number of fans in 2018, and Figure 2 shows the data of the singles' Day event in 2018. The increase in fans had built a solid foundation for the event and helped boost sales.
More data show
Compliments from our clients
Clients are very satisfied with our service. We can cultivate their own loyal customers and increase customer stickiness with certain plans and clear data, so that the brand can develop in the long run.
I want Chinese customers Today!
Contact us now to get our WeChat Official Account Operation Service! China's E-commerce platforms are the biggest in the world, if you are not on them you are losing out on millions of potential customers. Increase your brand's sales within 60 days with GEI. Contact us today and receive a free consultation of how exactly we are going to make you money! Open up your business right away! Open your E-com Channels with GEI.
Why choose us
According to your needs to advise and assist you on how to do 
Global Eastern Investments team consists of experts for consultations from marketing, law and economic backgrounds to deliver the best service to you
With 8 years of experience, there is little we haven't seen and can not help solve. Over 200 companies have already cooperated with us . Will you be the next?
Our fluent English team will take you each step of the way, advising and pointing you to the right direction, while helping you avoid all the potential hidden fees and traps
Testimonials
We provide customers with the best service experience
From:  Mr. Nico Lesmana, Indonesia
"If you want to set up any legal documents in China, you need to find a reliable partner. All those criteria found in GEI. They are very professional teams, and are quick to answer any questions for customers; also the general Nancy Wang is very lovely and sincere person. For GEI, I feel very safe because I know that they are in good hands for any legal document matters to me in China."
From: Yun Shou fitness (Guangzhou) CO.LTD
Yun Shou fitness (Guangzhou) CO.LTD, which is the agent of Taiwan for pilates in Canada. Since May 2017, we have selected Guangzhou as base after making completely research on Pilates market in Guangdong.
In the beginning, we got the professional assistance from GEI (Global eastern investment), especially the general manager Nancy Wang, who carefully assisted us to finish it so that we can contribute our efforts to the country with legal landing in Guangzhou.
GEI (Global eastern investment) is a professional team, which is absolutely the best strategic partner for investors.
From:  Mr.Aaron  Thomas SEO
Nancy and her team took our team step by step with each process required to open a WFOE company in China. Not only that but she also helped introduce several potential customers to us. If you want something more than just an accountant but someone who will help develop your business Global Eastern Investment is your best choice.
List of clients