ABOUT HK Business Environment
Hong Kong is the world's freest economy. It is the world's most services-oriented economy, with services sectors accounting for more than 90% of GDP.
Strategic Position
According to the UNCTAD World Investment Report 2019, global FDI inflows to Hong Kong amounted to US$115.7 billion in 2018.
ranked 3rd globally, behind only Mainland China (US$139 billion) in Asia.
The Hong Kong International Airport is the world's busiest airport for international air cargo since 2010. Hong Kong is also one of the world's busiest container ports. In 2019.
Hong Kong ranked 8th in the world in terms of container throughput.
Hong Kong is an important banking and financial centre in the Asia Pacific.
Hong Kong is the 6th leading global financial centre.according to the Global Financial Centre Index.
In terms of FDI stock, Hong Kong was the world's 2nd largest host with US$1,997.2 billion, after the United States,
and the world's 4th largest investor with US$1,870.1 billion in 2018.
Recent Government Initiatives
Seek the policy support of the relevant Central authorities to extend the incentives and facilitations currently enjoyed by Mainland enterprises to Hong Kong enterprises intending to set up businesses in the Mainland's overseas Economic and Trade Co-operation Zones.
Seek the policy support of the relevant Central authorities for tax concessions for Hong Kong enterprises wishing to shift from exports to domestic sales and streamlining of the approval process, with a view to enhancing their competitiveness in the Mainland domestic market.
How to Set Up HK Company?
It is very convenient to set up a Hong Kong company. It only takes 10 working days from confirming the information to completing the strength.
As long as the name of the Hong Kong company, the candidates for shareholders and directors, the share ratio, and the establishment of the company can be started immediately.
A Hong Kong company can be uncertain about its business scope. After the company is established, it can engage in any business it wants, as long as it does not violate the law.
It should be noted that although the establishment of a Hong Kong company is easy, it is more difficult to open a company bank account. Of course, we also provide this service
What do you need to provide?
Director's ID

Passport information
Director's signatures

After success   you may get
Company registration certificate
Business registration certificate
Incorporation Form
Stock certificate
Company record book
10 Articles of Association
1 stamp, 1 signature stamp, 1 small round stamp
A set of bank account verification certificate CPA
The green box with the company name printed on it contains the above 1-9 documents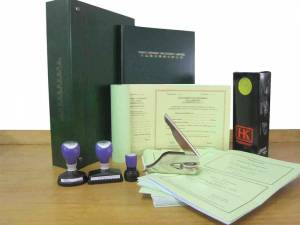 Why choose us
According to your needs to advise and assist you on how to do 
Our team has been engaged in HK company establishment more than 8 years who could provide professional advice on how to take advantages of HK company to enter China market.
With 8 years of experience, there is little we haven't seen and can not help solve. Over 200 companies have already cooperated with us . Will you be the next?
Our fluent English team will take you each step of the way, advising and pointing you to the right direction, while helping you avoid all the potential hidden fees and traps
Testimonials
We provide customers with the best service experience
From:  Mr. Nico Lesmana, Indonesia
"If you want to set up any legal documents in China, you need to find a reliable partner. All those criteria found in GEI. They are very professional teams, and are quick to answer any questions for customers; also the general Nancy Wang is very lovely and sincere person. For GEI, I feel very safe because I know that they are in good hands for any legal document matters to me in China."
From: Yun Shou fitness (Guangzhou) CO.LTD
Yun Shou fitness (Guangzhou) CO.LTD, which is the agent of Taiwan for pilates in Canada. Since May 2017, we have selected Guangzhou as base after making completely research on Pilates market in Guangdong.
In the beginning, we got the professional assistance from GEI (Global eastern investment), especially the general manager Nancy Wang, who carefully assisted us to finish it so that we can contribute our efforts to the country with legal landing in Guangzhou.
GEI (Global eastern investment) is a professional team, which is absolutely the best strategic partner for investors.
From:  Mr.Aaron  Thomas SEO
Nancy and her team took our team step by step with each process required to open a WFOE company in China. Not only that but she also helped introduce several potential customers to us. If you want something more than just an accountant but someone who will help develop your business Global Eastern Investment is your best choice.
List of clients