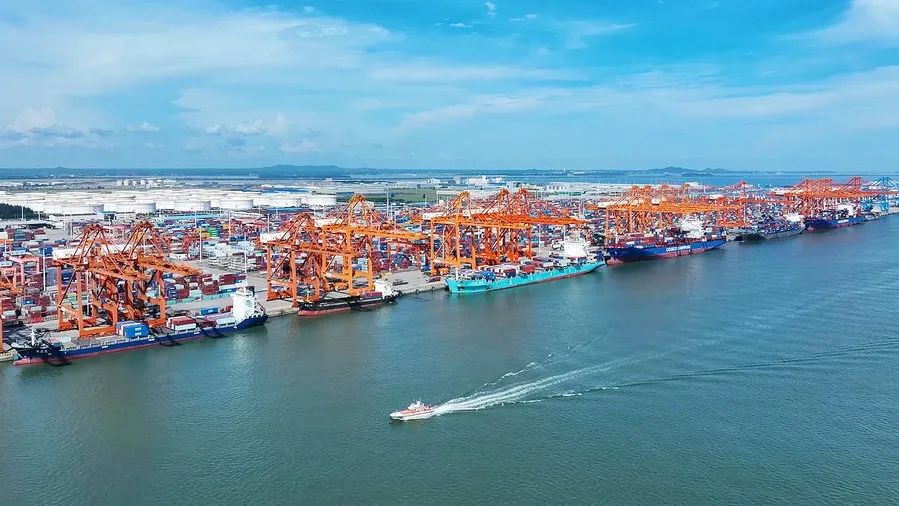 This aerial photo taken on Oct. 9, 2023 shows container vessels waiting in line to unload at the Qinzhou Port in Qinzhou, south China's Guangxi Zhuang Autonomous Region. The Qinzhou Port has opened more than 60 domestic and foreign container routes, which cover 61 cities in China and reach 393 ports in 119 countries and regions around the world, for the transportation of over 940 kinds of goods. (Xinhua/Zhang Ailin)
BEIJING, Oct. 13 (Xinhua) — China's total imports and exports of goods continued to improve in September, with the trade volume reaching a new monthly high for this year, official data showed Friday.
The foreign trade volume reached 3.74 trillion yuan (about 521 billion U.S. dollars) last month, registering month-on-month growth for a second consecutive month, according to the General Administration of Customs (GAC).
China has seen its imports and exports maintain stable operation and upward momentum despite a severe and complex external environment, GAC official Lyu Daliang said at a press conference.
In the first three quarters, China's goods imports and exports in yuan terms edged down 0.2 percent year on year to 30.8 trillion yuan, the data revealed.
The country's exports increased 0.6 percent year on year while imports dipped 1.2 percent in the first nine months, it added.
During the period, China's trade with countries participating in the Belt and Road Initiative amounted to 14.32 trillion yuan, up 3.1 percent year on year and accounting for 46.5 percent of the country's total foreign trade value.
The country's trade with emerging markets such as Central Asia, Africa, and Latin America expanded 33.7 percent, 6.7 percent, and 5.1 percent, respectively, while recent trade with the European Union and the United States also improved remarkably.
In the January-September period, private enterprises saw a fast growth rate as imports and exports increased by 6.1 percent to 16.34 trillion yuan, accounting for more than half of the country's total.
A breakdown of the data showed China's exports of machinery and electronic products, which accounted for 58.3 percent of total exports, increased 3.3 percent during the period, with the export value of automobiles and parts surging 48.2 percent from one year earlier.
New drivers are taking hold, as China saw 41.7 percent export hikes in green products, including electric vehicles, lithium-ion batteries, and solar batteries, according to Lyu.
He added that China's imports have continued to maintain sound momentum, with the volume expanding quarter by quarter this year, and the quantity increasing for eight consecutive months.
Specifically, China's imports from Latin America, the Association of Southeast Asian Nations and the European Union registered quarter-on-quarter growth of 8.5 percent, 6.3 percent and 2.6 percent, respectively, in the third quarter.
The sixth China International Import Expo is scheduled to take place in Shanghai from Nov. 5 to 10. The GAC has introduced multiple facilitation measures that cover exhibition access and customs clearance to provide convenience for more countries, enterprises and products.
Overall, China's foreign trade is expected to maintain stable development with improved quality and efficiency as the country continues to strengthen endogenous impetus and make the best of various practical measures, said Lyu.