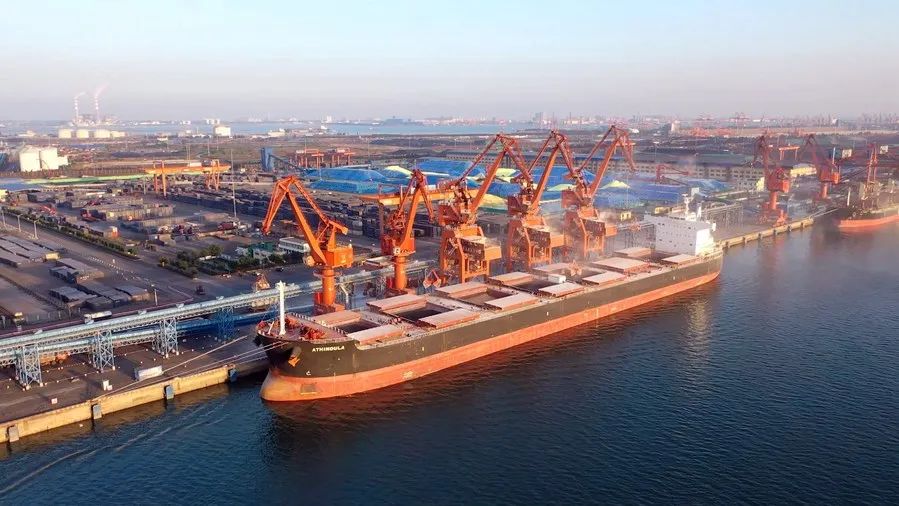 This aerial photo taken on Sept 16, 2023 shows a vessel docking at the bulk cargo terminal for unloading in Fangchenggang, South China's Guangxi Zhuang autonomous region. [Photo/Xinhua]
BANGKOK – The Belt and Road Initiative (BRI) is a wise global vision that fosters connectivity and infrastructure, and brings prosperity to all involved, especially developing countries, said Parnpree Bahiddha-Nukara, deputy prime minister of Thailand.
"The BRI project is highly intelligent, looking outward for regional development and global economic prosperity, building infrastructure, and significantly benefiting underdeveloped and developing countries," Parnpree, who is also the minister of foreign affairs, told Xinhua in an exclusive interview ahead of the third Belt and Road Forum for International Cooperation.
The BRI has significantly enhanced regional connectivity, especially through key projects like railways. "Railways have efficiently connected vital cities, enabling seamless transportation of products, especially agricultural goods, along these routes," he said.
The Thai government attaches importance to the China-Thailand Railway, which will eventually connect with the China-Laos Railway and yield significant economic benefits for the countries along the route, said Parnpree.
"We hope to further strengthen connectivity with Malaysia and Singapore, benefiting these nations in terms of trade, investment, and most importantly, the well-being of their citizens," he said.
Parnpree also pointed out that China plays a crucial role in the global economy that has a lot of uncertainty in the current situation.
China's economic growth and the deepening of cooperation between China and other countries contribute to maintaining the recovery momentum of the global economy.
"Neighboring countries and regions close to China continue their normal trade activities, strengthening overall trade in the Asian region, and from my perspective, I view China's economy positively," said Parnpree.
Noting that the close relationship between Thailand and China is deeply rooted, he said that bilateral cooperation extends beyond trade and investment, encompassing various fields such as security, society, and culture.
The collaboration focuses on digital and green economies, with a keen eye on bolstering supply chains for mutual prosperity, Parnpree said.
According to China's Ministry of Foreign Affairs, in 2022, bilateral trade between China and Thailand stood at $135 billion, up 3 percent from the previous year, with China being Thailand's largest trading partner.
China has long been one of the primary target markets for Thailand's tourism industry. To facilitate Chinese tourists visiting Thailand and boost the Thai economy, Thailand recently implemented a visa-free policy for Chinese tourists, Parnpree noted.
As for regional development, Parnpree said that a strong China-ASEAN relationship enhances cooperation among countries in the region, including Thailand, in various aspects such as trade, investment, and regional stability.
"This relationship benefits both ASEAN and China," he added.