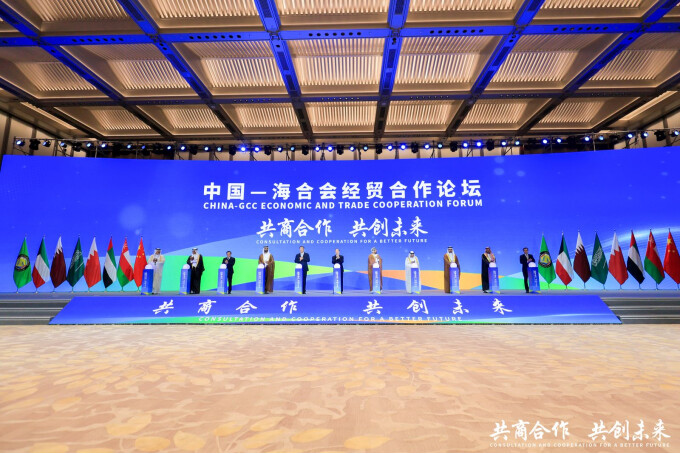 Guangdong will enhance cooperation with Gulf Cooperation Council (GCC) member countries, boosting economic and trade exchanges and welcoming more enterprises and institutes from GCC to the Guangdong-Hong Kong-Macao Greater Bay Area, said Huang Kunming, Party Chief of Guangdong when delivering the speech at the China-GCC Economic and Trade Cooperation Forum in Guangzhou on October 22.
Themed "consultation and cooperation for a better future", the China-GCC Economic and Trade Cooperation Forum was held to deepen mutual understanding and accelerate cooperation between the two sides.
According to Huang, Guangdong and GCC will extend their co-work in oil and gas industrial chains and explore more cooperative potential in the clean energy field. Based on that, the two parties agreed to diversify their trading products and ways with more digital trade, and encourage more GCC companies to invest in China and Guangdong.
Nearly 400 representatives of government departments, enterprises, financing institutes, and chambers of commerce from China and GCC member countries participated in the forum.
In recent years, great achievements have been made in cooperation between China and GCC member countries. During the forum, representative enterprises expressed their willingness to help boost cooperation between the two sides.
Zhao Lijian, CEO of BGI Genomics, said that his company has continued cooperation with Middle Eastern countries since 2020, establishing public health laboratories in GCC countries, including Saudi Arabia, the UAE, and Oman. Headquartered in China, BGI Genomics is the world's leading integrated solutions provider of precision medicine, now serving customers in more than 100 countries and involving over 2,300 medical institutions.
Yunhe LYU, Vice President & Chief Representative of ACWA Power China, told GDToday that his company has planned to establish an R&D Center in China, aiming to strengthen cooperation with China's related industrial chains, including in fields of new energy and desalination of seawater. ACWA Power is a Saudi Arabia-based developer, investor and operator of power generation and desalinated water plants with 75 assets in operation, construction or advanced development across 12 countries.