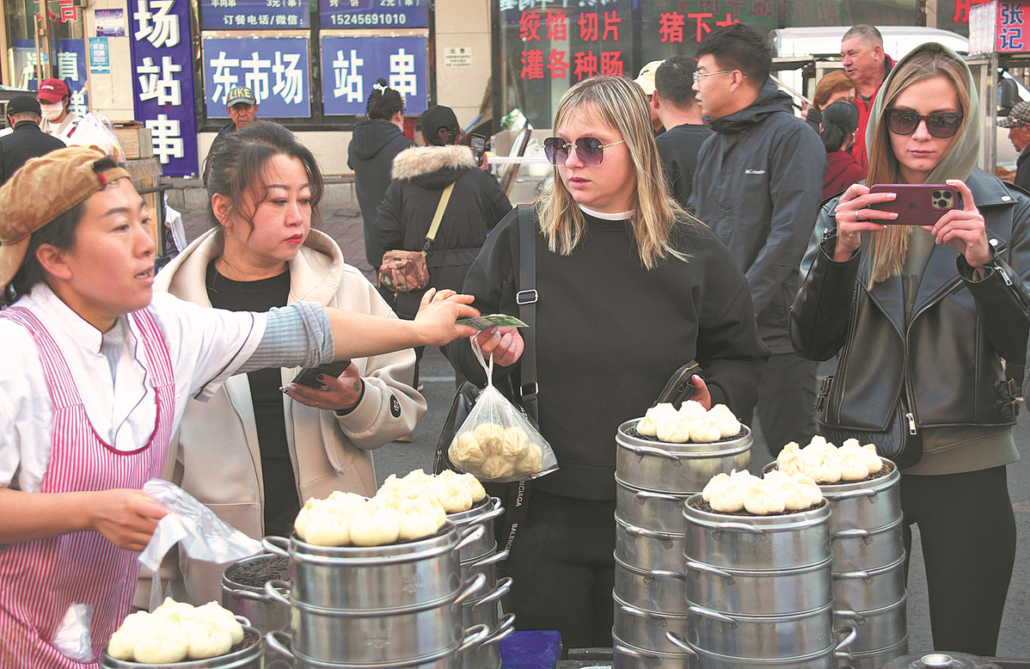 People from Russia buy baozi, or steamed stuffed buns, at a morning market in Heihe, Northeast China's Heilongjiang province, on Oct 14.The two countries resumed visa-free group travel services in September. [Photo provided to China Daily]
After two days of shopping in the small border city of Heihe in Heilongjiang province, Natalia Berezina, 38, returned home to Russia's Blagoveshchensk — just 700 meters across the Heilong River — carrying a large suitcase of goods. It takes just five minutes on a ferry or hovercraft to cross the border river, known as the Amur in Russia.
"My family loves things made in China, such as cotton bedsheets, clothes, shoes and various daily necessities," she said. "Every time I visit Heihe, I buy my son a toy, and he always gets excited."
In September, Sino-Russian visa-free group travel services, which had been interrupted due to the COVID-19 pandemic, resumed in Heihe, and business from across the border began flourishing again.
For Berezina, the appeal of Heihe extends beyond the shopping spree. The tantalizing local food is another draw. The signature dishes — youtiao (deep-fried dough sticks), guobaorou (sweet-and-sour, double-cooked pork slices) and dumplings — are among her must-haves. Traditional Chinese medicine practices, including massages and cupping therapy, also reel in many tourists.
"For me, the biggest attraction is the food," Berezina said. "And I also enjoy the relaxing treatments."
Videos on Chinese social platforms show swarms of Russian tourists enjoying local snacks in the outdoor markets of Heihe. Most of the stalls have signs in both Chinese and Russian, and the owners can communicate using basic Russian words and phrases.
"I have received many Russian customers over the past month, which has brought back memories about how things were three years ago," said Han Wenru, manager of a restaurant in Heihe. "I met my old Russian friends again, and served them their favorite dishes."
Han said she had learned Russian in school and can communicate well with her Russian customers.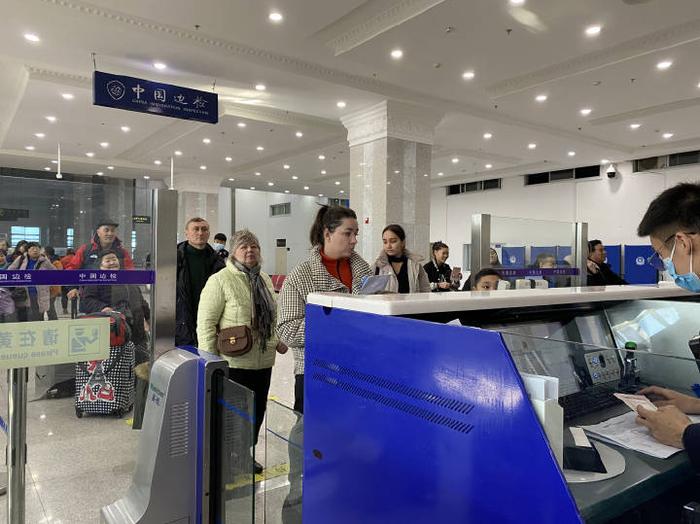 Heihe is equally popular among Chinese tourists. The city's unique location shapes its scenery and gives it an exotic appeal. The Russian goods and food, as well as Russian-style architecture and scenery, draw tourists from across China to this border city.
According to the Heilongjiang Culture and Tourism Department, during this year's Mid-Autumn Festival and National Day holiday, Heihe recorded more than 600,000 tourist visits, 85 percent more than what it witnessed during the same period in 2019. The city recorded a total of 14,683 cross-border travelers during the same period.
Zhang Min, deputy director of the city's bureau of culture, radio, television and tourism, said the city is gaining more prominence due to cross-border travel, and this opportunity will be seized to better promote tourism. "We will integrate various elements to improve tourism management and quality of services, and develop Heihe into a modern border city."
Between June and August, the peak season for summer tourism in Heihe, the border city received nearly 9 million tourist visits, and its tourism revenue exceeded 4.5 billion yuan ($617 million). In a bid to cash in on its unique characteristics, Heihe unveiled six recommended travel routes to attract more tourists for the upcoming winter tourism season.
According to the cross-border travel notice announced by Heihe, Chinese tourists need a valid passport and visa, and need to purchase a ferry ticket to clear customs and go to Russia. Those with only a passport but no visa need to join a group tour organized by a licensed travel agency.
"Heihe boasts abundant tourism resources, but lacks a cohesive image, resulting in its low profile in Northeast China," Liu Jiewu, a researcher at Shenzhen University's Tourism Development Research Center, told China News Weekly. "The resumption of the cross-border visa-free policy provides a new opportunity for Heihe to reestablish its cultural and tourism presence."
The city should develop leisure and trade exchanges, promote cultural tourism projects such as morning markets, and organize regular social and festive activities related to Russia, he said, adding that this will make Heihe one of the favorite Chinese cities among Russians.
"By attracting more domestic tourists who are interested in Russia, Heihe can transform itself from a transit city into a tourist destination," Liu said.