Businesses and analysts say China's strong economic recovery will result in higher levels of investment from overseas. Liu Zhihua and Zhong Nan report.
Michel Doukeris, CEO of AB InBev, the world's largest brewer, recently visited a number of eateries and bars in Beijing.
"We saw bars and restaurants with a lot of people, as well. I'm very pleased to see how consumption is quickly returning to the streets of Beijing," he said.
"The key message is that everybody is fully committed to the development and growth of China, particularly quality growth," he said, adding that his company will keep increasing investment in the country, the world's largest beer market.
That is just one example of how foreign investors are finding the Chinese market endlessly attractive.
Underpinned by its optimized COVID-19 response and steady economic recovery, experts and businesspeople believe that China will provide increasingly huge development opportunities for companies at home and abroad, especially as the ongoing two sessions are sending policy signals of strengthened efforts to expand high-standard opening-up and build an improved business climate.
Experts and policy advisers said China will likely launch more policy measures this year to boost the confidence of foreign investors while improving the quality of overseas trade and foreign direct investment.
That will enhance the positive interplay between domestic and international economic activity, and inject more growth impetus into the global economy against headwinds, they said.
According to the Government Work Report submitted to the National People's Congress for deliberation on Sunday, China will further its efforts to attract and utilize more foreign investment this year.
The report outlined several measures to achieve this goal, including expanding market access, further opening-up of the modern services sector, ensuring national treatment and improving services for foreign-funded companies, and facilitating the launch of large foreign-funded projects.
China also plans to take more action to join high-standard economic and trade agreements such as the Comprehensive and Progressive Agreement for Trans-Pacific Partnership. The country will steadily expand institutional opening-up by proactively adopting relevant rules, regulations and standards, the report said.
"The key for China to retain existing FDI is to strengthen efforts on tasks such as establishing a unified, fair and orderly national market, enhancing policy consistency and firmly safeguarding the legitimate interests of businesses," said Huo Jianguo, vice-chairman of the China Society for World Trade Organization Studies.
"With that, we will not only stabilize FDI, but also offset disruption to China's industrial and supply chains from factors such as the United States' attempts to decouple."
To spur a new influx of FDI, he said China is expected to increase the level of openness in the services sector, improve the implementation of laws and policy measures that enable foreign investors, and revise regulations and legal provisions that do not conform to the principle of national treatment of overseas investors.
Huo also urged further expansion of market entry in China's high-tech industries and improved regulations on cross-border travel for professionals working in the sector to expand FDI in related industries.
Zhang Yuyan, director of the Institute of World Economics and Politics at the Chinese Academy of Social Sciences, said the country is expected to focus on its own agendas, despite external challenges such as growing protectionism.
Strengthening efforts to expand high-level opening-up will create a more enabling environment for trade and investment, said Zhang, a member of the 14th National Committee of the Chinese People's Political Consultative Conference.
High-quality attraction
In recent years, China has been actively expanding opening-up and improving the business environment. As such, it has signed 19 free trade agreements with 26 countries and regions.
The number of items off-limits to foreign investors on the national negative list — which specifies restricted or prohibited sectors for such investors — and the number for the pilot free trade zones have been cut to 31 and 27, respectively.
Many experts believe that the government will introduce more measures to increase the FDI inflow and improve the FDI structure in the manufacturing sector.
Wang Wentao, minister of commerce, told a recent news conference in Beijing that attracting and utilizing more foreign investment will be "a key task" this year.
The country will make greater efforts to promote investment, improve services, expand opening-up and optimize the business environment in order to retain high-quality foreign investment and attract more investors from overseas, he said.
Taking effect on Jan 1, China's newest catalog of industries in which foreign investment is encouraged has continued to promote such inflows in manufacturing to improve the industrial and supply chains, while also promoting integration of the services and manufacturing sectors.
A report to the 20th National Congress of the Communist Party of China said the nation will pursue high-quality development as an overarching task, while making sure that the implementation of the strategy to expand domestic demand is integrated with its efforts to deepen supply-side structural reform.
The nation will boost the dynamism and reliability of the domestic economy while engaging with the global economy at a higher level, the report said.
Tang Yao, an associate professor of applied economics at Peking University's Guanghua School of Management, said: "China needs to improve the quality of trade while maintaining a stable degree of dependence on foreign trade (that is, the ratio of exports and imports to GDP). At the same time, it needs to pay more attention to attracting FDI in the high-tech manufacturing and services industries."
The country is expected to upgrade the quality of trade and the FDI structure and firmly uphold win-win international economic and trade cooperation as it advances toward Chinese modernization, which will follow a path of peaceful development, he added.
Wang, the commerce minister, said the country will thoroughly implement the foreign investment law and its implementation regulations to apply the national treatment of foreign enterprises with high standards.
As a result of government efforts to expand high-quality opening-up, improve the business environment and boost market confidence, global investors have become more bullish on the Chinese economy.
"We are greatly encouraged to see the introduction of policies and measures by the government to promote economic recovery and high-quality development, and believe it will help boost market confidence and advance market vitality," said Will Song, global senior vice-president of Johnson& Johnson, a multinational company based in the US.
"It sends a strong signal to the international business community that China is committed to being open to the world and welcomes multinational companies' investment and development," added Song, who is also chairman of Johnson& Johnson China.
Data from the Ministry of Commerce also reflect this growing confidence.
The actual use of foreign capital on the Chinese mainland hit 127.69 billion yuan ($18.5 billion) in January, up 14.5 percent from a year earlier. The manufacturing industry saw the relevant figure grow by 40.4 percent year-on-year in January, while the growth rate for high-tech industries was 62.8 percent.
Moreover, investment from South Korea, Germany and Great Britain soared by 64.2 percent, 52.9 percent, and 40.7 percent year-on-year, respectively, last year, while that from the European Union rose by 92.2 percent.
Schott, a German manufacturer of specialty glass and supplier of pharmaceutical packaging, plans to expand production in China this year. It has increased its global investment budget for this year to 500 million euros ($532 million), with 55 million euros allocated to the Chinese market.
During the fiscal year 2022, the company's revenue grew by 4 percent in China, despite the difficult global environment.
Schott's research and development center in Suzhou, Jiangsu province, has developed glass to suit the needs of Chinese smartphone brands such as Xiaomi and Vivo, enabling them to launch innovative foldable devices in recent years.
"In 2023, we maintain a positive outlook, although we still face global challenges, such as rising energy and raw material costs," said Frank Heinricht, Schott's CEO.
"In the past, foreign investment in China focused on low-cost manufacturing, but now foreign and Chinese partners work together on high value-added products and services. Such collaborations will provide strong impetus for China's long-term growth."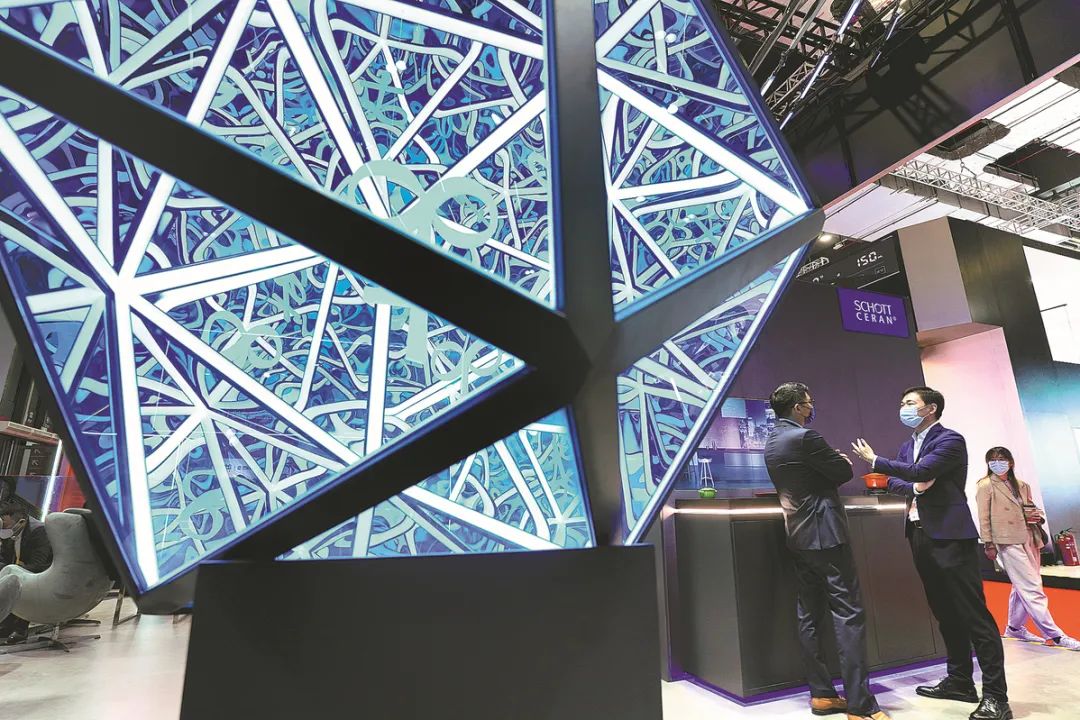 Stabilizing cooperation
According to experts, China will also likely step up efforts to shore up the growth of foreign trade while improving the quality of trade in the face of increasing challenges, such as rising protectionism and softer global demand.
Chen Jianqi, a professor at the Party School of the CPC Central Committee (National Academy of Governance), said China is expected to accelerate domestic economic circulation to improve macroeconomic stability and create an environment to enable all enterprises to grow.
That will "in turn help China cultivate new competitiveness and provide a stronger basis for deepening international cooperation", he said.
"The country is expected to promote high-quality joint construction of the Belt and Road Initiative to cultivate new cooperation space with other economies and stabilize international circulation. At the same time, it is expected to deepen reform and expand high-level opening-up, speed up negotiations on economic and trade agreements with others, and align with high-standard economic and trade rules, thereby deepening both multiple and bilateral cooperation."
Tang, from Peking University's Guanghua School of Management, said the country is expected to strengthen efforts to develop trade in key producer services industries, which include communication and information technology, R&D, transportation, finance and manufacturing-related services.
That will help China upgrade its manufacturing sector and industrial structure to promote supply-side reform, he added.
Experts and business leaders said new trade formats and business models, such as cross-border e-commerce, are expected to make greater contributions to stabilizing foreign trade growth this year.
One example is Loctek Ergonomic Technology, a manufacturer of office products in Ningbo, Zhejiang province. It plans to invest more than $100 million to build a warehouse park in California this year to bolster sales and offer warehouse and logistics services to other Chinese exporters in the US.
Xiang Lehong, the company's chairman, said that as more foreign retailers rely on online sales to maintain growth, many domestic companies have been inspired to invest more in cross-border e-commerce business in both developed and developing markets.
According to Li Yong, chief researcher at D&C Thinktank, uncertainties in the global economy will lead to weakening demand worldwide this year, and some countries pursuing protectionist policies will likely adopt stricter trade-constraining measures.
Yet, there are also factors that support trade orders flowing back to China, including supportive government policies and the endeavors of foreign trade enterprises, he said.
Resilience, efficiency
"The resilience and efficiency of China's industrial and supply chains have been tested by the pandemic in the past three years, and with adjustments coming in the year from both the policy and enterprise sides, the stable Chinese economy will provide strong support for its foreign trade to grow against the background of the gloomy global economy," Li added.
Xiang, chairman of Loctek Ergonomic, stressed that it is important for Chinese companies to deepen ties with foreign clients via face-to-face communication at overseas trade fairs or by visiting their business operations in person.
He traveled to the US in January, and he will visit a number of countries including Germany, South Korea and Japan in the first half of the year.
"Many foreign customers prefer to see, touch and feel products before placing orders," he said.
"Traveling abroad enables us to get a clear picture of what local consumers want and gain some insights in terms of product functions and designs."
Later this month, the company, which employs more than 4,000 people in China, Vietnam, the US and Germany, will put its first self-owned container ship with 1,800 twenty-foot equivalent units of shipping capacity into operation, traveling between Ningbo-Zhoushan Port in Zhejiang and the Port of Los Angeles.
Xie Weihong, dean of the School of Economics at Guangdong University of Technology in South China, said exporters are expected to have more face-to-face interaction with foreign clients, particularly companies whose business is in industries such as clothing, foodstuffs and industrial components.
Wang Zhuoqiong contributed to this story.