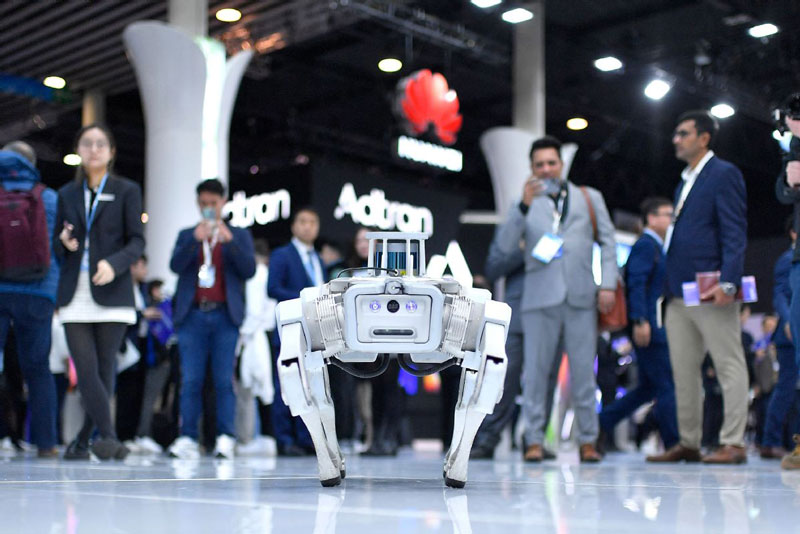 A Huawei robot is seen at the Mobile World Congress, the telecom industry's biggest annual gathering, in Barcelona, Spain, in February. [Photo/Agencies]
More than 19,000 applications filed by Chinese inventors raise nation's profile in global rankings
China is likely to soon overtake Germany and Japan as the second-largest country filing patents with the European Patent Office, as Chinese companies continuously grow in innovation prowess and embrace the international intellectual property system for IP protection, a senior expert from the EPO said.
The forecast came as the EPO's latest data show that Chinese companies and inventors filed 19,041 patent applications at the office in 2022, trailing after Japan with 21,576 applications, Germany with 24,684 and the United States with 48,088.
Aidan Kendrick, chief business analyst at the EPO, said in an exclusive interview with China Daily that patent applications from Chinese companies at the EPO grew by 15.1 percent last year, marking the highest growth rate among the leading 20 patent-filing countries.
"The growth rate from China continues in the double digits and it will not be long before China overtakes Japan and Germany whose growth rates are not at all on the same trajectory," Kendrick said.
Kendrick went on to say that patent filings from China have more than doubled over the past five years and are nearly five times the level of a decade ago.
"It's been very dynamic and continuous. We see that it has become a measure of the innovation efforts in China and the use of the international IP system by Chinese companies," Kendrick added.
Most inventions for which Chinese companies filed patent applications in 2022 came from digital communication, computer technology, electrical machinery, audio-visual technology and telecommunications.
The technical field with the steepest growth, however, was semiconductors with a year-on-year increase of 53.6 percent — 711 applications in 2022, up from 463 in 2021 — moving China into second position at the EPO after the US in this sector.
"The main Chinese player in semiconductors is BOE Technology Group, which is now just behind well-established names like Intel and Samsung. We can see that Chinese companies are making determined efforts to innovate in this area," Kendrick said.
Huawei was, once again, the most active patent applicant at the EPO last year, surging by 27.1 percent.
"When we looked at the figures, we were very struck by this development. Huawei is about 1,000 applications ahead of the second most active applicant. It's a remarkable effort made in 2022," Kendrick said.
Last year, Huawei's research and development spending hit $23.8 billion.
Yu Chengdong, CEO of Huawei's device business group, said as its profits grow in the coming years, the company will continue increasing investment in the exploration of frontier technologies.
The EPO said in 2022, nine Chinese companies were among the 50 largest patent applicants at the office — up from three in 2017 — confirming that the patent portfolio of technologies coming from China is broadening.
The top Chinese patent applicants at the EPO include Guangdong Oppo Mobile with 917, ZTE with 899, Tencent with 671 and BOE Technology Group with 598.
"We're seeing strong growth in electrical machinery and other industries. This is the area, which is covering the energy transition, that bolsters worldwide development. We also see Chinese companies that are active in battery technology. Chinese battery maker Contemporary Amperex Technology Co Ltd, for instance, is coming in as a dynamic applicant," Kendrick said.