Visitors interact with exhibitors at the booth of Malaysia at the China International Travel Mart 2023 in Kunming, Yunnan province, on Friday. [Photo/CHINA NEWS SERVICE]
China's 72-hour and 144-hour visa-free transit policies have been extended to visitors from 54 countries, with Norway being the latest addition to the list, an official from the National Immigration Administration said on Friday.
Visitors with such a transit visa exemption from these countries, including 40 from Europe, six from Asia and four from South America, are allowed to travel or conduct business-related activities in certain areas permitted by port visa authorities, said Mao Xu, director of the NIA's Department of Foreigners Management, during the China International Travel Mart 2023 held in Kunming, Yunnan province.
Some 20 big cities, including Beijing, Shanghai, Tianjin, Chongqing, Shenzhen and Guangzhou in Guangdong province, Nanjing in Jiangsu province and Chengdu in Sichuan province, apply the 144-hour visa-free transit policy. Changsha in Hunan province, Harbin in Heilongjiang province and Guilin in the Guangxi Zhuang autonomous region implement the 72-hour policy.
"We encourage travel agencies from home and abroad to help more foreign visitors come to China under these policies," said Mao.
By the end of October, the number of foreigners visiting China had touched 26.51 million, a robust growth since China optimized its COVID-19 policies, Mao added.
The travel mart, themed Nihao! China (Hello! China), has attracted 892 representatives from 70 nations and regions across the world.
It has been held annually since 2001, only pausing for three consecutive years due to the pandemic.
Tourism ministries from eight countries, including South Africa, Thailand, Vietnam and Malaysia, as well as travel institutions and agencies from home and abroad took part in this year's event.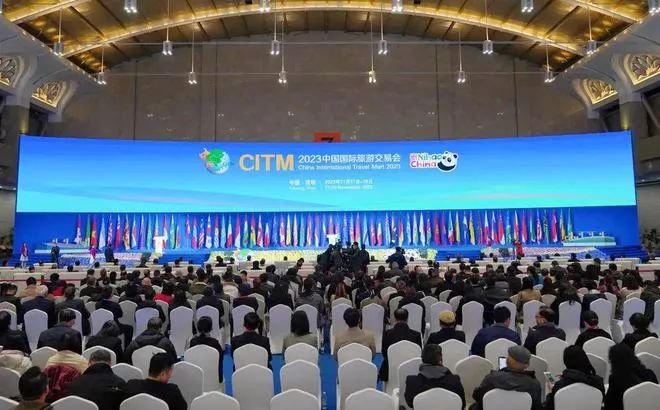 Zurab Pololikashvili, secretary-general of the United Nations World Tourism Organization, said through a video link that the travel mart is the biggest and most important event of its kind in Asia, reflecting the speed of growth of tourism in the region.
Pololikashvili, who visited some cities in China after the country optimized its COVID-19 policies, said many more visitors will follow in his footsteps to visit China, especially after the reforms to the country's visa and entry rules.
Shalva Khutsishvili, the manager of Georgian travel agency Caucasus Voyagers, who is taking part in the travel mart for the fourth time, said his agent has flown in more Chinese tourists to Georgia, while the agency plans to bring a greater number of Georgians to China in the future.
"When people explore a nation's natural beauty and its food, it really brings two countries together. I think travel is the key way of bringing people together, especially when we are able to travel again after the pandemic," Khutsishvili said.